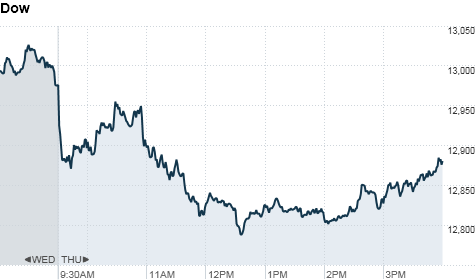 Click the chart for more stock markets data
NEW YORK (CNNMoney) -- U.S. stocks ended Thursday in the red, but off the lows of the day, after investors were disappointed by European Central Bank president Mario Draghi's failure to announce concrete plans to help solve Europe's debt crisis.
The Dow Jones Industrial Average fell 92 points, or 0.7%. The S&P 500 was also down 0.7%. The Nasdaq shed 0.4%.
Investors had hoped that Draghi would announce some form of new action after he pledged last week that the ECB would do "whatever it takes" to preserve the euro.
But Draghi merely echoed previous remarks.
"Once again, we have no commitment to action from the ECB, and no execution of promises previously made," said Carl Weinberg, chief economist at High Frequency Economics. "Nothing seems set to happen now."
In absence of an explicit commitment, borrowing costs in Spain and Italy moved higher Thursday. Spain's 10-year yield rose back above 7%, while Italy's 10-year yield moved above 6%.
Still, investors are hoping that the ECB will act...eventually.
"Even though no action was taken today, we should still see ECB bond buying over the next several weeks or months," said Michael Sheldon, chief market strategist RDM Financial Group.
Investors will turn their attention back to the U.S. Friday though, when the government will release its highly anticipated monthly jobs report for July.
"Tomorrow's the beginning of a new game, where the market's going to be driven by the employment report, even though the consensus is that it will show more of the same," said Brian Gendreau, a market strategist at Cetera Financial Group.
A CNNMoney survey of economists predicts that the economy added 95,000 jobs in July -- that includes 105,000 job gains in the private sector and 10,000 job losses in the public sector. The unemployment rate is expected to stay at 8.2%.
Economy: The number of people filing initial unemployment claims rose 8,000 to 365,000 in the latest week, according to the Labor Department, in line with economists' expectations.
Planned job cuts fell 45% in July to a 15-month low, according to outplacement firm Challenger, Gray & Christmas.
Factory orders fell 0.5% in June, according to the Census Bureau. Economists were expecting order to rise 0.6% during the month.
World markets: European stocks all closed lower following Draghi's remarks. Britain's FTSE 100 was down about 0.9%, the DAX in Germany was down 2.2% and France's CAC 40 dropped 2.3%.
As expected, the Bank of England held its key interest rate at a record low of 0.5% and left its bond-buying program target unchanged at £375 billion ($585 billion).
Asian markets ended mixed. The Shanghai Composite lost 0.6% and the Hang Seng in Hong Kong fell 0.7%, while Japan's Nikkei edged higher 0.1%.
Companies: Knight Capital Group's (KCG) stock plunged 60% after the company said it would report a $440 million pre-tax loss due to a "technology issue" at the trading firm Wednesday that led to a series of bizarre moves in the market.
Green Mountain Coffee Roasters (GMCR) surged over 25%. The company reported earnings that topped forecasts and announced a stock buyback, but its guidance was weak.
Shares of Abercrombie & Fitch (ANF) tumbled after the teen retailer slashed its forecast for the year, citing weakness in Europe.
First Solar's (FSLR) stock rallied after the company posted an 82% jump in second-quarter profit.
Shares of Sony (SNE) were down sharply after the company posted a wider loss compared to last year and cut its outlook for the year.
Shares of online review site Yelp (YELP) advanced after the company reported quarterly results that showed solid revenue growth and a smaller-than-expected net loss.
General Motors (GM, Fortune 500) shares edged lower, even after the auto delivered quarterly earnings of $1.5 billion, topping forecasts, despite "headwinds" in Europe.
Currencies and commodities: The dollar rose against the euro and the British pound but fell versus the Japanese yen.
Oil for September delivery declined $1.59 to $87.31 a barrel.
Gold futures for August delivery fell $16.30 to $1,587.40 an ounce.
Bonds: The price on the benchmark 10-year U.S. Treasury rose, pushing the down to 1.47% from 1.54% late Wednesday.