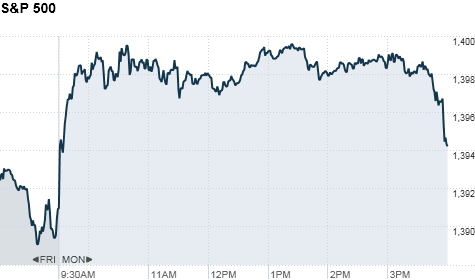 Click chart for more markets data.
NEW YORK (CNNMoney) -- U.S. stocks closed higher Monday, despite retreating from the day's highs, as investors continued to cheer an upbeat jobs report and welcomed lower borrowing costs in Spain and Italy.
The Dow Jones industrial average added 21 points, or 0.2%. The S&P 500 also closed 0.2% higher, while the Nasdaq gained 0.8%. The gains extended Friday's rally sparked by a stronger-than-expected July jobs report.
With no other reports due on the economy Monday, investors continued to monitor Europe's debt crisis, and were relieved to see yields on Spanish and Italian bonds declined further on Monday.
Paul Powers, head of U.S. equity trading at Raymond James, said it's a relief to finally see a quiet Monday. Overall, he said, investors are much more optimistic than they have been in weeks.
While many bellwether companies have already reported second quarter results, investors are still watching corporate results for signs of a slowdown or alternately signs of life among consumers.
Shares of Chesapeake Energy (CHK, Fortune 500), which has been in the spotlight amid takeover chatter and a management shakeup, rose in after hours trading, folowing the release of its second quarter results after the closing bell.
Other earnings due later in the week include Disney (DIS, Fortune 500), News Corp (NWSA, Fortune 500) and J.C. Penney (JCP, Fortune 500).
Meanwhile, Wall Street kept close tabs on Knight Capital Group. The firm said Monday that a group of investors have agreed to buy $400 million in convertible preferred stock of the company. The investors include TD Ameritrade (AMTD), Blackstone Group (BX), Getco, Stifel Financial (SF), Jefferies Group (JEF) and Stephens Inc.
The announcement came as Knight (KCG) faces a $440 million loss from a software glitch that triggered a series of bizarre moves in otherwise thinly traded stocks last Wednesday, affecting how shares for some 150 NYSE-listed stocks were routed.
But the new investors get a majority stake in Knight, diluting the value for existing shareholders. Knight's stock plunged nearly 25% on the news.
U.S. stocks rallied Friday as a stronger-than-expected July jobs report helped lift markets for the week.
World markets: European stocks closed higher. Britain's FTSE 100 ticked up 0.4%, while the DAX in Germany and France's CAC 40 added 0.8%. Spain's IBEX ended higher, despite a glitch that halted trading on the exchange for five hours.
Asian markets rallied, as investors cheered the better-than-expected U.S. jobs report from last Friday. The Shanghai Composite rose 1%, the Hang Seng in Hong Kong climbed 1.7%, and Japan's Nikkei surged 2%.
Companies: Best Buy's (BBY, Fortune 500) stock surged Monday after the company's founder and major shareholder, Richard Schulze, offered to take the electronics retailer private at $24 to $26 a share, a 36% to 47% premium.
Still even with the rally, its stock closed below $20, well below the offer price. Investors appeared to be wary of whether its founder could secure enough financing. Standard & Poor's also cut Best Buy's credit rating to junk status.
Shares of Tyson Foods (TSN, Fortune 500) fell after the seller of chicken, beef and other prepared foods posted earnings and revenue that fell short of Wall Street's expectations.
The company also highlighted the rising price of grain amid the ongoing drought. While Tyson said it ultimately expects to pass along the higher costs, it also cautioned that they will likely pressure earnings in 2013.
Late Friday, Warren Buffett's Berkshire Hathaway (BRKB) reported a drop in earnings due to derivatives losses, but posted strong gains in its insurance business. Class A (BRKA, Fortune 500) and Class B (BRKB) shares of Berkshire were slightly higher.
Currencies and commodities: The dollar fell against the euro and the Japanese yen, but gained slightly versus the British pound.
Oil for September delivery gained 80 cents to $92.20 a barrel.
Gold futures for August delivery added $6.90 to $1,612.90 an ounce.
Bonds: The price on the benchmark 10-year U.S. Treasury rose, pushing the yield down to 1.56% from 1.58% late Friday.
Sunday marked the one-year anniversary of Standard and Poor's downgrade of the U.S. credit rating from AAA.
Despite S&P's blow, yields on U.S. government debt across all maturities have hit record lows in the post-AAA world as investors' enthusiasm for Treasuries intensified amid a tepid U.S. economic recovery, a growing European debt crisis, and slowing growth in emerging markets -- particularly China.
In recent weeks, the yield on the 10-year Treasury note has fallen to a record low around 1.4% from 2.6% a year ago. The 30-year yield has dropped to less than 2.5% from almost 4% last August. As investors buy Treasuries and drive up the price, yields continue to decline.