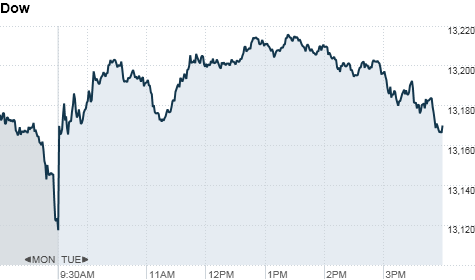 Click the chart for more market data.
NEW YORK (CNNMoney) -- U.S. stocks rose Tuesday, extending gains for a third day, as investors continue to bet global central banks will step in to support the market.
The Dow Jones industrial average and the S&P 500 both rose about 0.5%. The Nasdaq gained nearly 0.9%.
All three indexes are at their highest levels since early May.
Ryan Detrick, senior technical strategist at Schaeffer's Investment Research, said investors are "content" with the policies central bankers in Europe and the United States are expected to take to support the economy.
"There's a bit more confidence that the ECB and the Fed will do what they can to stave off a worldwide recession," he said.
Hopes for more action by the Fed were fueled by comments from Boston Fed president Eric Rosengren.
Rosengren, who is not currently a voting member of the Fed's policy committee, told the Wall Street Journal that the central bank needs to take "more substantive action than we've taken to date."
Specifically, Rosengren called for an aggressive, open-ended policy of buying bonds, known as quantitative easing.
However, the Fed alone does not have the tools to promote growth and remains hesitant to act, said Mohamed El-Erian, chief executive of asset manager Pimco. "The best the Fed can do is postpone the storm," El-Erian told CNN's Ali Velshi.
Meanwhile, investors continue to focus on corporate sales and earnings data.
While many bellwether companies have already reported second-quarter results, investors are still watching corporate earnings for clues about the health of the broader economy.
Economy: Consumer credit increased by $6.5 billion in June, according to data from the Federal Reserve. Economists had expected consumer credit to have risen by $10 billion, according to a survey of analysts by Briefing.com.
Companies: Pfizer (PFE, Fortune 500) discontinued clinical studies on an Alzheimer drug it was developing with a subsidiary of Johnson & Johnson (JNJ, Fortune 500). Separately, Pfizer settled charges by the SEC that it bribed doctors and government officials in several overseas markets.
Shares of Fossil (FOSL) surged more than 30% after the watch retailer's second-quarter profit jumped 12% and topped forecasts.
Chesapeake Energy (CHK, Fortune 500), which has been in the spotlight amid takeover chatter and a management shakeup, posted second-quarter revenue that topped expectations.
Shares of Leap Wireless (LEAP) hit a new 52-week low, after the pre-paid cellphone company said it lost 289,000 customers in the second quarter. The company's management said is now considering selling assets to stay afloat.
Best Buy's (BBY, Fortune 500) stock was slightly lower one day after the company's founder and major shareholder, Richard Schulze, offered to take the electronics retailer private at $24 to $26 a share, a 36% to 47% premium.
Shares of Apple (AAPL, Fortune 500) edged lower Tuesday but have rebounded more than 8% since a 4% pummeling the day after it missed forecasts and guided lower. Apple shares are now just 3% below the all-time high of $644 set in April.
Sirius (SIRI) shares got a lift after the satellite radio company raised its annual profit forecast.
Disney (DIS, Fortune 500), one of the Dow's best performers this year, said it earned $1.01 per share on revenue of $11 billion in the company's fiscal third quarter. Analysts had forecast earnings of 93 cents per share on revenue of $11.3 billion.
Results due later in the week include Disney rival News Corp (NWSA, Fortune 500), Macy's (M, Fortune 500) and J.C. Penney (JCP, Fortune 500).
Shares of Standard Chartered fell on the London Stock Exchange after banking regulators in New York accused U.K.-based banking group of helping Iran avoid sanctions by concealing $250 billion worth of transactions over nearly 10 years.
World markets: European stocks closed higher. Britain's FTSE 100 rose 0.2%, while the DAX in Germany gained 0.5% and France's CAC 40 added 1.4%.
Asian markets finished higher. The Shanghai Composite ticked up 0.1%, the Hang Seng in Hong Kong rose 0.4% and Japan's Nikkei gained 0.9%.
Currencies and commodities: The dollar fell against the euro and British pound, but rose versus the Japanese yen.
Oil for September delivery rose $1.47 to settle at $93.67 a barrel.
Gold futures for August delivery fell $3.20 to $1,609.70 an ounce.
Bonds: The price on the benchmark 10-year U.S. Treasury fell, pushing the yield up to 1.63% from 1.56% late Monday.