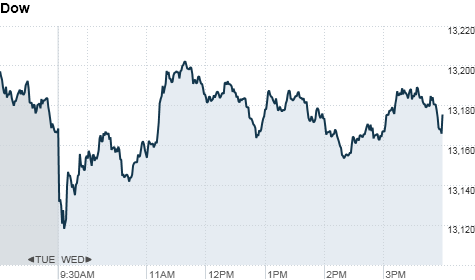 Click the chart for more stock markets data
NEW YORK (CNNMoney) -- U.S. stocks were little changed Wednesday as investors took a breather with the three major indexes at their highest levels since early May.
The Dow Jones industrial average and S&P 500 edged higher, while the Nasdaq slid into the red.
Trading lacked conviction, according to Tom Schrader, managing director at Stifel Nicolaus.
"I don't really see any major drivers for the market today," said Schrader. He said low trading volumes will likely be the norm through Labor Day.
Even though stocks have been steadily climbing, investors still have plenty to worry about, with the overall market sentiment remaining bearish, Schrader added.
Europe's debt problems haven't shown much improvement, with worries about Spain needing a bailout keeping invests on edge. Borrowing costs for Spain and Italy remain uncomfortably high, with the Spanish 10-year yield hovering around 7% and the Italian 10-year yield just below 6%.
On top of that, the U.S. economy remains sluggish, which isn't helping matters much.
And investors still have the tail end of earnings to contend with.
Shares of Priceline (PCLN) tumbled 17%, leading the decline in the S&P 500 and Nasdaq. The online travel company's forecast for the third quarter fell short of analyst expectations. Priceline blamed Europe's debt crisis and "the viability of the euro" for the slowdown. Shares of rival online travel sites TripAdvisor (TRIP), Expedia (EXPE) and Kayak (KYAK) were also lower.
Dean Foods (DF, Fortune 500) shares jumped more than 40%, making it the best performing S&P 500 stock, after the company boosted its profit forecast for the year. Dean Foods also announced that it is spinning off its WhiteWave-Alpro business, which sells Horizon Organic, Silk soy milk and almond milk, International Delight and Land O' Lakes Products.
Shares of Hewlett-Packard (HPQ, Fortune 500) climbed after the company unexpectedly boosted its third-quarter forecast.
Nearly 90% of S&P 500 companies have reported their quarterly results, and earnings are on pace to grow just 0.9%.
On the bright side, 65% of the companies that have reported so far have topped Wall Street expectations, higher than the average rate of 62% over the past decade.
Companies: McDonald's (MCD, Fortune 500) stock was the biggest loser in the Dow. The fast food giant's July same-store sales were flat. Sales in Europe fell 0.6% last month amid weakness in Germany and southern European markets.
Shares of Macy's (M, Fortune 500) rose as the retailer topped earnings and revenue expectations. Macy's also raised its earnings guidance for the year.
Shares of Ralph Lauren (RL, Fortune 500) slipped after the company issued a downbeat forecast for the third quarter, forecasting revenues to decline slightly. The company's second-quarter earnings beat forecasts, while revenue was in line with expectations.
Bain Capital-backed Bloomin' Brands (BLMN), which owns Outback Steakhouse as well as smaller chains like Carrabba's Italian Grill and Fleming's Prime Steakhouse, made its debut on the Nasdaq Wednesday. Shares rose 10% above its IPO price of $11 per share.
After the bell, News Corp (NWSA, Fortune 500) reported quarterly earnings that met forecasts. But sales were lower than what analysts were expecting.
Starbucks (SBUX, Fortune 500) signed on with Square Inc. to process its credit and debit card purchases. As part of the deal, Starbucks pledged to invest $25 million in Square, a mobile payment platform for retailers. In addition, Starbucks CEO Howard Schultz will join Square's board of directors.
Economy: Productivity increased 1.6% during the second quarter, according to the Bureau of Labor Statistics. Analysts were expecting the figure to rise 1.5%.
Labor costs rose 1.7% last quarter, higher than the expected 0.4% increase.
World markets: European stocks closed in the red. Britain's FTSE 100 finished slightly below the breakeven point, while the DAX in Germany declined 0.1% and France's CAC 40 fell 0.3%.
England's central bank released its quarterly inflation report Wednesday, and was gloomy in its outlook. The Bank of England slashed its forecast for economic growth in Britain to 2% annually in two years, down from its earlier estimate of 2.6%. The central bank also trimmed its inflation outlook.
"The economy will continue to face headwinds over the forecast period, from the fiscal consolidation and tight credit conditions at home, as well as from the difficulties in the euro area and a broader slowing in the world economy," said Bank of England governor Sir Mervyn King, in a statement
Asian markets had a mixed finish. The Shanghai Composite rose 0.2% and Japan's Nikkei added 0.9%, while the Hang Seng in Hong Kong dipped slightly.
Currencies and commodities: The dollar rose against the euro, but declined versus the British pound and the Japanese yen.
Oil for September delivery lost 23 cents to $93.44 a barrel.
Gold futures for December delivery rose $3.20 to $1,616 an ounce.
Bonds: The price on the benchmark 10-year U.S. Treasury fell, pushing the yield up to 1.64% from 1.63% late Tuesday.
The Treasury Department sold $24 billion in 10-year notes Wednesday yielding 1.68%, up from the record low of 1.46% in July. Demand for U.S. debt was also weaker than it has been in recent months.