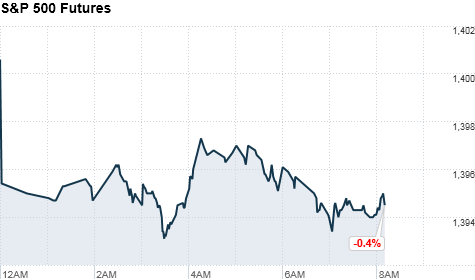 Click the chart for more premarket data.
NEW YORK (CNNMoney) -- U.S. stocks were headed for a weak open Friday following disappointing economic data from China that heightened fears about a slowdown in the world's second largest economy.
U.S. stock futures were down between 0.3% and 0.4%.
Chinese exports, which had been gaining strength for the past few months, rose just 1% from a year earlier in July, which was well below expectations and down from the 11.3% pace of increase in June. The 4.7% uptick in Chinese imports also fell short of forecasts.
The lackluster data highlighted the fact that Chinese manufacturers are being hit hard by slowing global demand, said Grant Lewis, head of research at Daiwa Capital Markets in London.
Loan growth was also disappointing and added to recent concerns about the strength of China's economy.
On the domestic front, investors digested a report that showed falling U.S. import and export prices. An update on the federal budget will be released in the afternoon.
In Europe, worries about the possible need for a Spanish bailout continue, given that the nation's borrowing costs remain high. Spain's 10-year bond yield is hovering just below 7%.
It's been a fairly quiet week on Wall Street. Stocks rallied at the start of the week, as enthusiasm over the better-than-expected July jobs report and hope that central banks will soon take steps to stimulate the global economy carried over from the prior week. But U.S. stocks barely budged Wednesday and Thursday. Volume was light, as it probably will remain until Labor Day.
Ahead of Friday's session, all three major indexes are on track to end the week with modest gains. The Dow and S&P 500 are up more than 0.5%, while the Nasdaq is on pace for a 1.7% increase.
World markets: European stocks were lower in morning trading. Britain's FTSE 100 slipped 0.3%, France's CAC 40 declined 0.8%, and the DAX in Germany lost 0.7%.
Asian markets ended in the red. The Shanghai Composite shed 0.2%, the Hang Seng in Hong Kong lost 0.7% and Japan's Nikkei slid 1%.
Economy: Export prices fell 0.3% in July, while import prices declined 0.4%, according to a report from the Bureau of Labor Statistics. Import prices have been declining since April, and export prices have been falling since May.
A 2 p.m. ET, the Treasury budget report will give a snapshot of the nation's finances. Economists surveyed by Briefing.com expect it to show a deficit of $71 billion in July, higher than the $60 billion deficit in June.
Companies: Shares of J.C. Penney (JCP, Fortune 500) tumbled after the department store chain posted a second-quarter loss of $147 million, or 67 cents per share. Analysts were expecting a loss of just 25 cents per share.
Sales tumbled 23% to $3.02 billion, and revenue at stores opened at least a year dropped 22%, worse than the 18.9% drop in the first quarter. J.C. Penney also withdrew its guidance for the year.
Yahoo's (YHOO, Fortune 500) stock was sharply lower after the Web portal company -- in a filing with the Securities and Exchange Commission -- said new CEO Marissa Mayer is reviewing business strategy.
The review could lead to changes in the restructuring plan the company has already started to implement, as well as the previously announced plan to return to shareholder the cash it generated from a deal to sell its stake in the Chinese internet company Alibaba.
British soccer team Manchester United priced shares of its initial public offering at $14 Thursday night, below its targeted range, and will begin trading on the New York Stock Exchange Friday under the symbol "MANU."
Currencies and commodities: The dollar rose against the euro and the British pound but lost ground versus the Japanese yen.
Oil for September delivery fell $1.31 to $92.05 a barrel.
Gold futures for December delivery slipped $8.50 to $1,611.70 an ounce.
Corn prices hit yet another record high Friday of $8.32 per bushel as the U.S. Department of Agriculture projected a massive slump in the corn harvest as the drought continues.
The USDA reduced its estimate for the annual corn crop yield by 22.6 bushels per acre to 123.4 bushels. As forecast, the 2012-2013 corn yield would be the lowest since 1995-1996. The reduction was even wore than the 126 bushels per acre yield that analysts were expecting.
Bonds: The price on the benchmark 10-year U.S. Treasury rose, pushing the yield down to 1.64% from 1.69% late Thursday.