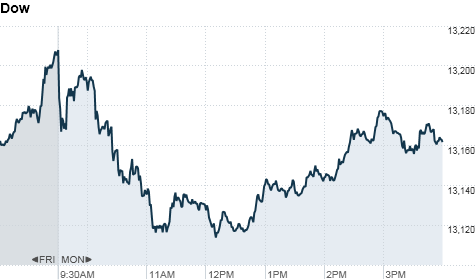 Click the chart for more stock market data.
NEW YORK (CNNMoney) -- U.S. stocks tumbled Monday as concerns about global growth weighed on the market.
The Dow Jones industrial average and the S&P 500 both finished the day with modest losses. The Nasdaq recovered from earlier losses to end flat.
The retreat came after stocks drifted higher last week, rising to the highest levels since early May. However, the volume of shares trading hands has been very low, with many market participants taking to the sideline during the usual summer doldrums.
Meanwhile, investors are debating whether the U.S. economy is weak enough to warrant additional stimulus from the Federal Reserve, said Bruce McCain, chief investment strategist at Key Private Bank.
Hopes for a third round of asset purchases by the Fed have been a key driver of the market's gains this year. But last month's better-than-expected jobs report raised questions about whether the central bank will need to take further action, said McCain.
"It's been a positive ride, but one that has left a lot of people scratching their heads and wondering if it's truly justified," he said.
In addition, investors remain concerned about the debt problems in Europe.
The Greek economy, which has been in recession for years, shrank 6.2% in the second quarter, according to preliminary government estimates released Monday.
The European Union's statistics office will release preliminary data Tuesday on gross domestic product for the second quarter. Economists expect that economic activity across the 17-nation euro area declined from the first quarter.
Weak economic numbers out of Japan on Monday re-ignited worries about a global slowdown. Japan's gross domestic product grew just 0.3% in the second quarter, according to Japan's Cabinet Office, which was less than expected.
On the domestic front, the reporting of second-quarter corporate results is beginning to draw to a close, though Dow components Home Depot (HD, Fortune 500), Walmart (WMT, Fortune 500) and Cisco (CSCO, Fortune 500) will all report earnings later this week.
Investors were also digesting the weekend's announcement that Republican Mitt Romney has selected Congressman Paul Ryan as his running mate in this year's presidential election.
Companies: Groupon (GRPN) reported quarterly earnings that beat analysts' forecasts, although revenue growth was weaker than expected. Shares plunged in after hours trading.
Motorola Mobility, the Google (GOOG, Fortune 500)-owned cellphone maker, announced it would cut 4,000 jobs, or a quarter of its workforce. The company also said it would consolidate a third of its 90 facilities. These changes come as Motorola lost money in 14 of the last 16 quarters. Shares of Google were up on the news.
Barnes & Noble (BKS, Fortune 500) announced price cuts on its Nook e-reader and tablet devices Monday, as back-to-school shopping gets underway and amid speculation that Amazon (AMZN, Fortune 500) will introduce a new version of its Kindle Fire. The company said price cuts will be between $20 to $50.
Shares of Manchester United (MANU) recovered after briefly falling below the initial offering price of $14 a share. The British "football" club debuted on the U.S. stock market Friday.
Shares of J.C. Penney (JCP, Fortune 500) fell 3.1% as investors reevaluated the company's latest results. The retailer reported a loss on Friday, but the stock rose that day due to optimistic comments from CEO Ron Johnson.
Sears Holdings (SHLD, Fortune 500) stock rose 5.6% after an article in Barron's suggested the stock could double if the company's turn-around effort works. Separately, Sears is reportedly working on plans to spin off its Hometown and Outlet stores.
World markets: European stocks closed lower. Britain's FTSE 100 and France's CAC 40 fell 0.3%, while the DAX in Germany slid 0.5%.
Asian markets ended lower after Japan reported weak growth. The Shanghai Composite dropped 1.5%, the Hang Seng in Hong Kong fell 0.3% and Japan's Nikkei shed 0.1%.
Currencies and commodities: The dollar fell against the euro and the British pound, but gained versus the Japanese yen.
Oil for September delivery fell 14 cents to settle at $92.73 a barrel.
Gold futures for December delivery lost $10.20 to end at $1,612.60 an ounce.
Bonds: The price on the benchmark 10-year U.S. Treasury held steady with the yield at 1.64%, the same level as late Friday.