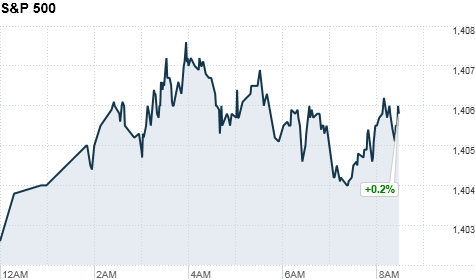 Click the chart for more premarket data
NEW YORK (CNNMoney) -- U.S. stocks were poised to open higher Tuesday after several better-than-expected eurozone economic reports.
U.S. stock futures were up more than 0.2%.
France and Germany released second-quarter gross domestic product data that beat analysts' expectations, but preliminary data showed the eurozone economy on the whole continued to shrink.
Eurozone GDP shrank by 0.2% between April to June compared to the previous quarter and 0.4% year-over-year, according to flash estimates published by Eurostat, the statistical office of the European Union. In the first quarter of 2012, GDP was unchanged.
While the data came in higher than forecasts, economists say that the numbers still point to a gloomy picture, leaving concerns about the eurozone crisis intact.
"The big picture is that the economic growth required to bring the region's debt crisis to an end is still nowhere in sight," Jonathon Loynes, chief European economist at Capital Economics, wrote in a research note.
With more signs of a persistent slowdown, investors are hopeful that the figures will continue to build a case for central banks to step in with further stimulus measures.
In the United States, economic reports on tap for the morning include retail sales, producer prices and business inventories. Investors will also look to second-quarter results from retailers Home Depot (HD, Fortune 500), Saks (SKS) and TJX (TJX, Fortune 500).
U.S. stocks tumbled Monday as concerns about global growth weighed on the market.
World markets: European stocks got a boost from GDP figures in afternoon trading. Britain's FTSE 100 rose 0.4%, the DAX in Germany ticked up 0.9% and France's CAC 40 added 0.4%.
France released second-quarter GDP figures that were slightly better than expectations, though growth was unchanged.
German GDP beat forecasts with an increase of 0.3% for the second quarter, but the rise was not enough to boost overall eurozone GDP data.
Meanwhile, inflation in Britain edged higher in July, according to the Office for National Statistics. Consumer prices rose at a 2.6% annual rate, up from 2.4% in June, while retail prices rose at a 3.2% rate, up from 2.8%.
Asian markets ended the day higher. The Shanghai Composite rose 0.3%, the Hang Seng in Hong Kong gained 1.1%, and Japan's Nikkei added 0.5%.
Economy: Retail sales in the U.S. climbed for the first time in four months, up 0.8% in July, the Census Bureau reported Tuesday. Economists had expected a 0.2% increase.
Producer prices also beat estimates, increasing 0.3%, according to the Bureau of Labor Statistics. Prices were expected to rise by 0.2%.
Meanwhile, business inventories data will be released at 10 a.m. ET from the Census Bureau. They're expected to have risen by 0.2% in June.
Companies: Home Depot reported second-quarter earnings of $1.01 per diluted share, beating the Thomson Reuters consensus of 97 cents a share.
The company reported net income of $1.5 billion, compared with $1.4 billion a year earlier. Sales came in at $20.6 billion, a 1.7% increase from the prior year, but fell short of analyst expectations of $20.7 billion. Shares were higher in premarket trading.
Saks reported a net loss of $12.3 million, or 8 cents a share, which was better than forecasts. In the second quarter last year, the luxury retailer reported an $8.4 million loss, or 5 cents a share.
TJX posted net sales of $5.9 billion and earnings of 56 cents a share, a 9% increase from last year. Analysts expected the discount retailer to report earnings of 55 cents a share.
Groupon (GRPN) shares dove nearly 23% during premarket trading after beating earnings estimates but missing on revenue.
Currencies and commodities: The dollar rose against the Japanese yen and British pound, but fell versus the euro.
Oil for September delivery lost 23 cents to $92.95 a barrel.
Gold futures for December delivery rose $1.40 to $1,611 an ounce.
Bonds: The price on the benchmark 10-year U.S. Treasury held steady, keeping the yield at 1.65%.