Tumbling sales of truck-based SUVs are bad for Detroit, but if you're in the market, the deals are great.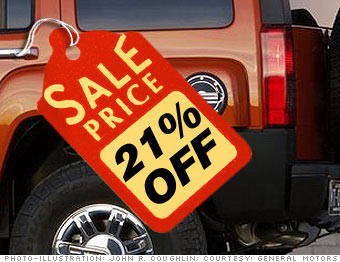 Sales of new truck-based SUVs are way, way down as drivers turn to more fuel-efficient car-based crossovers and even small cars.
As a result, the prices consumers are really paying for mid-size and large SUVs are dropping. When incentives are factored in, buyers are saving more than 20% off the full sticker price for some of these vehicles.
With auto information Web site Edmunds.com, we looked at real-world pricing for many truck-based SUVs and found some pretty big mark-downs.
In all cases, we're comparing the sticker price of a "typically equipped" model with the "Edmunds True Market Value," an estimation of what buyers are really paying. We also factor in available cash incentives, which aren't included in the TMV price.
NEXT: Jeep Grand Cherokee Laredo AWD
Last updated June 19 2008: 2:36 PM ET
Email
|
Print
|

Digg this story
|

RSS