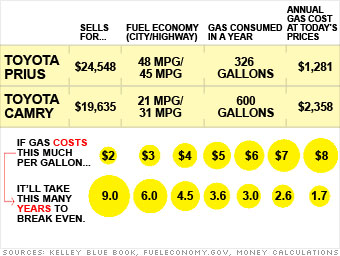 Q.
How fast does a hybrid pay off?
A. So you're thinking about bypassing a standard Camry in favor of a Prius (if you can find the darn thing). Wondering how long it'll take before your savings at the pump compensate for the higher price?
The answer depends on where gas prices go. At today's $3.93 a gallon, it'd take almost five years to recoup the $4,913 difference and start saving money. (By the way, that Prius has an MSRP of $23,535, but good luck getting it; we've noted what it's actually selling for.)
Now, if you got a hybrid on which there are still tax credits, the payback could be a few months shorter. Still, you're paying a lot up front for delayed gratification, especially considering that a 2008 Camry and Prius are expected to retain virtually the same percentage of value on resale by 2013 - 39% and 38%, respectively - according to Kelley Blue Book.
- Additional reporting by O.C. Ugwu and Andrew Nusca

More galleries

Last updated August 12 2008: 6:04 AM ET
Email
|
Print
|

Digg this story
|

RSS
Notes: Based on 45% highway, 55% city driving; 15,000 annual miles. Models are 2008 Toyota Prius four-door hatchback and 2008 Toyota Camry four-door sedan with automatictransmission. Prices are transactional figures from Kelley Blue Book Kelley New Car Blue Book Value. sources: Kelley Blue Book, Fueleconomy.gov, MONEY calculations.