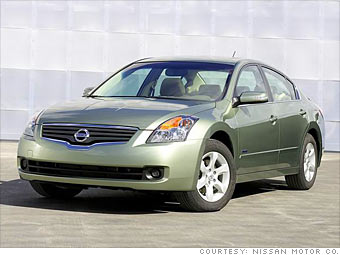 If you don't want to wait around for a Prius, check out the Nissan Altima hybrid.
Q.
I really want a hybrid. Any advice?
A. Dealers have waiting lists for the two most popular, the Prius and the Civic Hybrid. So if you want one of these, start with the largest dealer in your area, as it gets the most inventory. Be flexible about trim, color and options; you're in no position to be picky.
Still, you'll likely have to put your name on a waiting list; expect to pony up a refundable deposit of $1,000 or so. (As of now you'll also pay about $1,000 above sticker on the Prius, according to Kelley Blue Book.) If the delivery time is longer than you'd like, look beyond your area.
"Hybrids are most popular in coastal states and Texas," says Jack Nerad, an analyst at Kelley Blue Book and author of "The Complete Idiot's Guide to Hybrid and Alternative Fuel Vehicles." "Your best chance of finding one is in the Midwest." (Of course, you'll have to pay to get the car to you, which can add up to $1,000 to your bill.)
You'll have an easier time getting a hybrid with less cachet and fewer miles per gallon, such as the Chevy Malibu (24 mpg city, 32 highway) or the Nissan Altima hybrid (35 mpg, 33 mpg).

NEXT: Gizmo gamble

Last updated August 12 2008: 6:04 AM ET
Email
|
Print
|

Digg this story
|

RSS