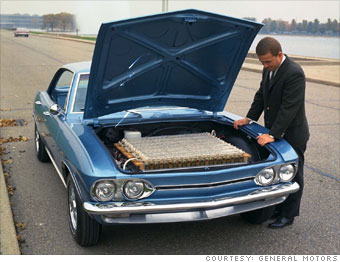 The Chevrolet Corvair, with its rear-engine lay-out, provided an ideal platform for experimenting with electric drive.
It was a long hiatus, but by the 1960s, GM was looking seriously at electric cars again. Gas cost about 34 cents a gallon, or about $2.00 in today's terms, but Americans were more concerned about air pollution, according to a GM overview on the Electrovair.
The Electrovair II, a show car unveiled in 1966 seen at right, was an improved version of 1964's Electrovair I. Both were based on the rear-engine gas-powered Chevrolet Corvair, whose design provided a convenient location for the batteries. The large battery pack went under the hood, while the electric motor drove the wheels from the back of the car.
"The GM electric vehicle concept is based on the belief that an electric car should have performance compatible with modern expressway driving," press materials for the car said.
The Electrovair II used silver-zinc batteries because, GM said, they delivered high power. (These were the same batteries GM produced for use in intercontinental nuclear missiles, said GM engineer John Berisa.)
The downside was that they were expensive and wore out quickly, as the carmaker admitted at the time. Performance was similar to the gas-powered Corvair, but range was still a problem. The car needed recharging after 40 to 80 miles.
"The objective is to determine what is technically feasible," GM wrote of its work on cars like the Electrovair, "regardless of whether a project ever will become economically possible."
The Electrovair II never went to market, and it would still be a long time before a viable electric car would become economically possible for GM.


Last updated April 07 2009: 2:19 PM ET
Email
|
Print
|

Digg this story
|

RSS