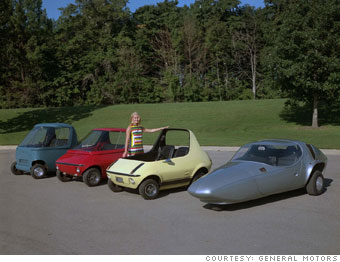 GM's 512-series experimental cars weren't considered safe or fast enough to mix with general car traffic.
In contrast to the Electrovair, GM's 512 Series Urban Cars (the blue, red and yellow cars pictured at right) weren't designed for real roads.
"The three cars, with their 30 to 40 mph top speed and limited acceleration, would operate either on a paved road system of their own or in reserved lanes of existing roads, because they could not mix safely with today's freeway of boulevard traffic," GM said in a 1969 press release.
Each car had a different drive system. The blue car, the 512 Hybrid, was a gasoline-electric hybrid vehicle. The red car was an all-electric car and the yellow car ran on a 12-horsepower 19.6 cubic inch (0.3-liter) two-cylinder engine. The silver three-wheeled car on the far right was the gasoline-powered 511 Commuter Vehicle.
GM featured the cars in a 1969 media event called the "Parade of Power." The show highlighted the automaker's research into various forms of alternative propulsion. Also included were jet-powered cars, a steam-powered Pontaic Grand Prix and an exhibit on "nuclear reactor systems as possible means of powering vehicles."

NEXT: Electrovette

Last updated April 07 2009: 2:19 PM ET
Email
|
Print
|

Digg this story
|

RSS