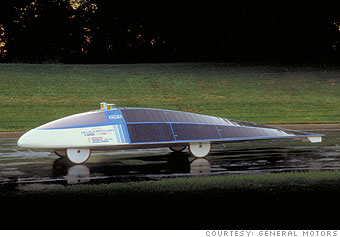 The Sunraycer was an electrically-driven car powered by sunlight. While impractical for use on public roads, it was technological triumph.
Powered only by sunlight, the 20-foot long, single-seat Sunraycer won the first World Solar Challenge held in Australia in 1987. Built by GM with help from its then-subsidiary Hughes Electronics, the Sunraycer could reach a top speed of 45 mph on a bright day. Its 72,000 solar cells covered an area of 90 square feet.
"With Hughes, we had access to the world's best solar cells," said John Berisa, now GM's director of advanced propulsion.
The car finished the nearly 2,000 mile race almost three days ahead of anyone else, he said, with its batteries still fully charged.
The Sunraycer convinced GM executives that electric drive technology had improved enough to take another stab at a commercially viable car.
"Many of its technological and design innovations later influenced the development of GM's EV1 electric car and the Chevrolet Volt E-Flex concept," GM said in a 2008 press release naming it one of the carmaker's "Top 10 concept vehicles."

NEXT: EV1

Last updated April 07 2009: 2:19 PM ET
Email
|
Print
|

Digg this story
|

RSS