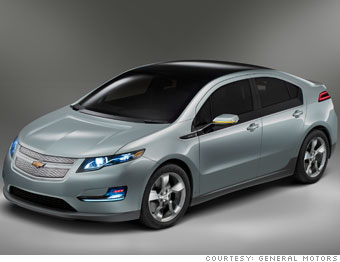 Battery technology still hasn't improved enough to provide for long-range driving, so the Volt uses a gasoline engine to produce more electricity if needed.
The Volt solves the long-standing problem of "range anxiety" for electric cars. Drivers no longer have to worry about their car's batteries leaving them flat far from home.
As the battery begins to wind down, a small gasoline engine begins generating the electricity needed to keep driving.
The really nice thing about this plan, in GM's view, is that the gasoline engine could easily be swapped out with any other kind of generator. If hydrogen fuel cells finally start to catch on, no big reengineering project will be needed. Just drop in a fuel cell instead of an engine and a compressed hydrogen tank instead of a gas tank.
By the time the Volt comes out in late 2010 other carmakers, as well as GM's own Saturn division, will offer plug-ins - both hybrid and all-electric - for sale, as well. A century after it was born, the plugged-in car may officially be back.

More galleries

Last updated April 07 2009: 2:19 PM ET
Email
|
Print
|

Digg this story
|

RSS