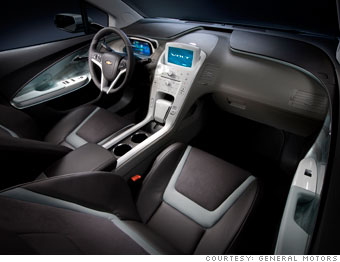 Based on photos released last week - inadvertently, GM says - many people posting comments on car blogs have expressed disappointment that the production car does not look as angular and aggressive as the original concept vehicle.
"The majority of [the comments] are negative," Lyle Dennis, a New Jersey neurologist who runs the blog GM-Volt.com, said last week, before Tuesday's unveiling. "A lot of people are saying they're very disappointed and 'take me off the [waiting] list.' "
Since the car's official unveiling, and the release of new photos, opinions have been shifting to the positive, Dr. Dennis said later.
GM regularly uses the Volt concept car, introduced at the 2007 Detroit Auto Show, in its advertising, identifying it as "future product."
That concept car's angular face wasn't aerodynamically efficient enough to make it to the final version as GM engineers and designers tried to extract every extra foot of "all electric" range from the car, GM designers have said.
Even though the car doesn't need very much cooling air, since the gas engine will only be used occasionally, the car maintains the appearance of a front grill. It is mostly closed, though.
The grill was important to maintain the car's design relationship to other Chevrolet products.
"This is in line with Chevrolet," Welburn said. "Maybe more modern than the others. That link is a very important link."

NEXT: Technology inside

Last updated September 25 2008: 3:41 PM ET
Email
|
Print
|

Digg this story
|

RSS