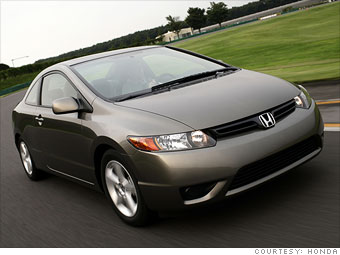 It's hard for Detroit automakers to compete with Asian small cars like the Honda Civic.
Gripe: They don't offer the small, fuel-efficient models consumers want.
Fact: They do make smaller cars but they're not judged to be competitive.
It's difficult for Detroit automakers to compete with Asian automakers in small cars. Compacts are less expensive for consumers to buy but are still nearly as expensive to build as larger cars. Consumers are also demanding higher quality and sophistication in small cars making it hard to get by with a cut-rate product.
Currently, eight of the nine small cars Consumer Reports recommends are made by foreign carmakers. Only one, the Ford Focus, is domestic.
The real problem is that small cars are often the first cars people buy. Every small car sale Detroit automakers lose is another customer they'll have to work harder to win over later. The lack of strong entry-level products has probably done more damage to domestic automakers than too many SUVs.
What's to come: Some more promising-looking domestic small cars are headed here soon. Ford will begin selling its European Ford Focus and Fiesta here in 2010. GM will also begin selling the new Chevrolet Cruze here in 2010.
And Chrysler has entered into an agreement with Nissan that allows it to begin selling one of the Japanese automaker's small cars here, most likely under the Dodge brand.

NEXT: Lousy Quality

Last updated December 08 2008: 6:50 PM ET
Email
|
Print
|

Digg this story
|

RSS