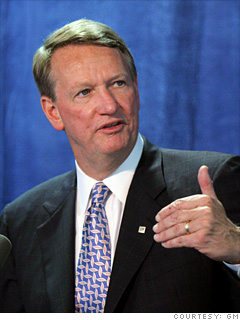 GM CEO Rick Wagoner leads a company in trouble, but could anyone else have done better?
Gripe: CEOs make way too much for leading failing companies
Fact: It's a tough job and their pay is about average, but they may have to take cuts
At $8.9 million, the total reported annual compensation for Rick Wagoner, chief executive of GM, is slightly below average for a leader of an S&P 500 company, according to the Corporate Library. On the other hand, the average leader of an S&P 500 company isn't on Capitol Hill asking for federal assistance to keep his company afloat.
Ford CEO Alan Mulally makes considerably more than Wagoner. He'll pull in about $12 million this year. Mulally's been to the Hill, too, but he has publicly said that Ford doesn't need bail-out cash. He's there because if GM or Chrysler goes down the cascading financial impact would be bad for the entire industry. In that instance, Ford might end up needing some money.
Considering that Mulally was hired from the outside to get Ford back into shape, and that Ford is now the strongest of the Big Three automakers, it could be said that he deserves that money.
Chrysler, now a privately held company, isn't required to divulge how much its CEO, Bob Nardelli, gets paid.
Since first appearing before Congress, all three CEOs have agreed to work for a salary of just $1 a year if they get federal help.
What's to come:Some in Congress have called for CEO scalps, Wagoner's in particular. Wagoner has said previously he doesn't intend to step down and that removing him would only mean bringing in someone with less knowledge of GM and its troubles, but he may have to go in order to save the company.

More galleries

Last updated December 08 2008: 6:50 PM ET
Email
|
Print
|

Digg this story
|

RSS