We worked with CarsDirect.com to find some of the best deals in this biggest-ever year-end sales season.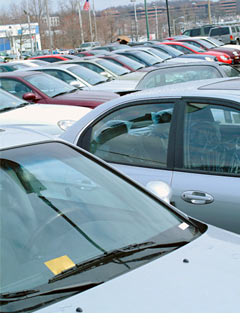 The global economic crisis caused a crushing drop in auto sales this year pushing America's already-struggling automakers into a full-blown crisis requiring at least two of them - Chrysler and General Motors - to request immediate financial help from the government lest they go bust.
But, at least for consumers, there is one bright spot in the spiraling auto industry's malaise. If you're interested in buying a car, we've got some deals for you. And they're not just from domestic automakers, either. Even popular Japanese automakers are piling on the incentives.
We asked auto pricing experts at CarsDirect.com to help us identify some of the best deals out there. Of course, the deal is only as good as the car, so we've only included offers on models we'd consider buying ourselves.
Not all of these offers apply everywhere in the country and, for financing and lease deals, you may need even cleaner credit than usual these days.
NEXT: 2009 Chevrolet Malibu
Last updated December 26 2008: 5:34 PM ET
Email
|
Print
|

Digg this story
|

RSS