Here's where things are headed for Detroit's struggling auto brands as GM, Ford and Chrysler look for cuts.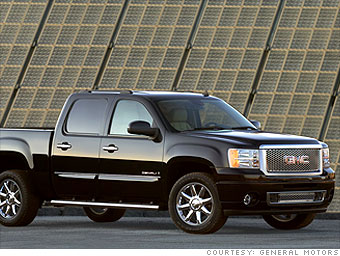 General Motors and Ford submitted their plans for future viability Tuesday. Ford isn't cutting any of its brands, beyond changes the company had already announced, but GM is making some significant changes. Some brands likely aren't going to survive, others will be pared down.
To some, a brand like GMC seemed entirely disposable. GMC is General Motors' truck-only brand, but every GMC product is also sold, with little real difference, as a Chevrolet often at a dealership only a short distance away. But GM announced Tuesday that GMC is one of its four "core brands" along with Buick, Cadillac and Chevrolet. So it's here to stay.
Why keep it: Light trucks are a key part of the U.S. auto market and always will be. Consumers want to buy them and dealers need to sell them. And GMC is a trusted name in trucks, whatever its relationship with Chevrolet. Plus, without GMC, Pontiac-Buick-GMC dealers will be left with just Pontiac and Buick. Try selling dealers on that idea.
Why dump it: Simply put: It would save GM the expense of designing and marketing another line of vehicles. But that expense might pale in contrast to the costs of dealer and consumer outrage at losing GMC.
NEXT: Pontiac
Last updated December 02 2008: 4:31 PM ET
Email
|
Print
|

Digg this story
|

RSS