They've given up the daily grind, but that doesn't mean they're retired. Meet seven boomers who have staged enviable second acts - on their own terms.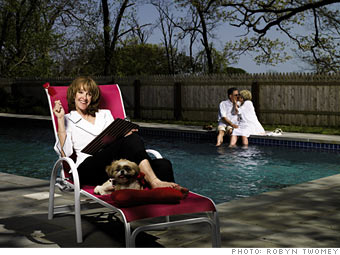 Janis in her Bridgehampton backyard, with married couple Susan and Tom Ferrara, and her dog Disco
Janis Spindel
New York
Ever wonder where that CEO - maybe no longer young, perhaps far from handsome, but richer than God - met the gorgeous, brainy young woman he married? If her client list weren't strictly confidential, Janis Spindel could probably tell you. Spindel, 51, built her first career as a manufacturers' rep for three sportswear makers and then as the owner of nine Mommy & Me stores. "But I've been an amateur matchmaker all my life," she says. "I get these flashes of intuition."
Still, she didn't think of turning professional until "14 friends I fixed up on blind dates all married those dates in the same year. I turned to my husband and said, 'A business is born.' " Spindel's company, Serious Matchmaking (janisspindelmatchmaker.com), has only male clients, who pay her $50,000 (plus expenses and a marriage bonus) to find them a wife. She maintains a database of about 12,000 women at any given time and says she meets with 80 to 150 more every day - "sometimes in groups of eight or 12" - who want in. So far Spindel, who has been married for 25 years and has two daughters, claims credit for more than 1,000 "long-term committed relationships," 800 marriages, and zero divorces.
NEXT: The Storyteller
Last updated June 11 2008: 7:18 AM ET
Email
|
Print
|

Digg this story
|

RSS