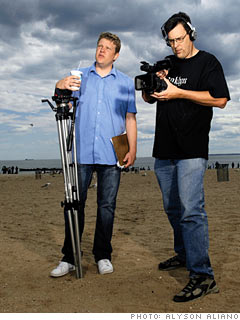 Steve Janas and Jesper Olsson, contracting filmmakers, 2 years
Retention strategy: Stay transparent
Headquarters: Emeryville, Calif.
Employees: 50
Every weekday at 3 p.m. Pacific time, the entire staff of TurnHere gathers in a conference room to watch a video. The company works with a global network of about 5,000 documentary filmmakers (like Janas and Olsson, pictured here, who run Reel Stuff Entertainment) to produce short online videos for clients including Random House, InterContinental Hotels, Williams-Sonoma, and Travelocity. So the daily confab is a chance for everyone at TurnHere to see a work in progress or a just-completed video and to kick around ideas.
The gathering is also where founder and CEO Brad Inman talks to the troops about revenue goals, and how close - or not - the company is to meeting them. "At first people thought I was crazy when I said we should all get together every day," says Inman. Some people also thought he was crazy for opening the books to the whole staff. Transparency seems to pay off, however: TurnHere has met or exceeded its past several quarterly revenue targets, and it recently celebrated by giving all 50 employees a dinner for two at Berkeley's famed Chez Panisse.
One in three TurnHere employees is a member of notoriously restless Gen Y or, as Richard Moran, a partner in Venrock, a venture capital firm that backs TurnHere, describes them, "young, hip, urban, and techno-savvy - the most difficult employees to keep." He adds, "A key to retention is for people to feel they are contributing to building something, not just showing up." Or as Inman puts it, "If you want low turnover, you need managers who know how to listen."
More galleries
Last updated June 16 2008: 3:45 PM ET
Email
|
Print
|

Digg this story
|

RSS