A (surprisingly) legal high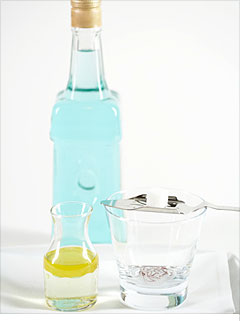 Absinthe
Banned in: The U.S.
Absinthe is legal in the United States, contrary to popular belief, as long as the spirit's levels of thujone - a toxic chemical present in wormwood, one of the herbs used to make absinthe - do not surpass the Food and Drug Administration's limit of 10 parts per million.
Jen Armstrong, who serves absinthe at her New York City bar The Dove Parlor, says the supposed prohibition confuses customers, who insist they must be drinking "imitation" absinthe. "They're skeptical, but I explain that it's the real thing," she says.
Myths about absinthe making people crazy probably have more to do with the drink's high alcohol content - 62%, in the case of Lucid, the brand served at the Dove - than the wormwood.
"The effects of absinthe have been built into legend," says Armstrong. "There's definitely intrigue surrounding it."

NEXT: Loopholes in a foie-gras prohibition