Harnessing the ocean's power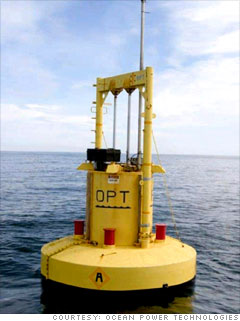 Researchers at Oregon State University say that only 0.2% of the ocean's untapped wave energy could power the entire world.
Prototypes of wave and tide machines, with various technological designs, are being tested throughout the world. These technologies include wave generators and free-floating power buoys that use waves for energy. One promising U.S. company is Ocean Power Technologies of Pennington, New Jersey, which received a $12 million contract from the U.S. Navy to install its electricity-generating buoys in the waters off Hawaii to power a Marine base there. The company is also undertaking demonstration projects for Lockheed Martin and is working on projects in France, Scotland, and Spain.
In its most ambitious project to date, Ocean Power has set its eyes on the wave-rich Oregon coast. Ocean Power founder George Taylor, a former surfer who grew up in Australia, plans to put his first 30-acre wave power farm off the shore of Reedsport on Oregon's central coast. When completed in 2008, this installation is projected to provide enough power for 2,000 homes, but the ultimate goal is enough electricity for 50,000.

NEXT: Mirrors in the desert