Tapping the sun, the oceans and the wind, these entrepreneurial ventures are actively pursuing new energy sources. Excerpted from The Plot to Save the Planet.
Power from the Earth's crust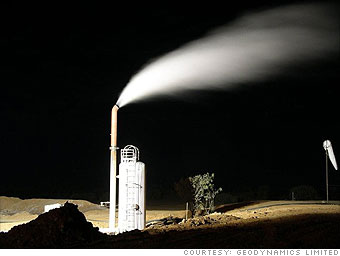 A recent report by MIT and the Department of Energy concluded that geothermal energy derived from the heat in the Earth's crust could provide the U.S. alone with the equivalent power of 100 nuclear plants by 2050 - or about 20% of the nation's current electricity - and do it while emitting only trace amounts of greenhouse gas.
The start-up Geodynamics seems the furthest along in trying to build the world's first commercial, deep-underground geothermal plant. So far the Australian company, which has sunk more than $100 million into its Habenero project, is drilling holes into the hot, dry rocks some 3 miles beneath the surface of the barren lands of South Australia. The idea is that these cracks or breaks in the rock will allow water to seep through and become heated. A power plant on the surface would draw hot water out of this well, convert its energy into electricity, then pump the cooled water down a second well, establishing a flow of water through the underground reservoir.
Geodynamics hopes to have its plant up and running by 2010.
NEXT: Google Solar