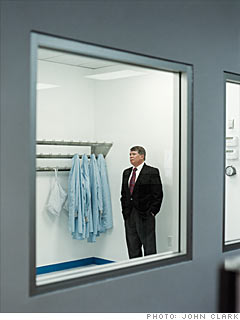 Prince isn't the only Minneapolis/St. Paul resident who likes to reinvent himself. Seven years ago, IntriCon (
No. 22
) was selling huge industrial furnaces to the steel industry. Today its business is "bodyworn devices," including miniature parts for hearing aids, sensors for medical devices, and wireless earpieces for government security agents.
Transformations this dramatic require leadership and vision, and CEO Mark Gorder, a 30-year company veteran, provided both. "It was always my dream to run a technology company," says Gorder, 61, who grew up in Silicon Valley.
To realize his expansive vision, Gorder embarked on a string of acquisitions and alliances, including a 2003 partnership with AMI Semiconductor to access key DSP and ultra-low-power (ULP) wireless technologies; last year it partnered with Advanced Medical Electronics to make wireless medical devices. Signaling its transformation, in 2005 the company, then called Selas Corp. of America, changed its name to IntriCon, a mashup of "intricate connections." This January, IntriCon abandoned the American Stock Exchange for the Nasdaq, hoping to demonstrate its commitment to the high-tech industry.
So far, Gorder's reinvention strategy is paying off. Annual revenues rose by an average of 25.3% in each of the past three years, while earnings climbed an average 18.5%. Last year, IntriCon's sales climbed 33% to $68.9 million; earnings jumped 61% to $1.87 million.
Read more about IntriCon: A champion of reinvention

NEXT: Even hipsters must follow the rules