Mini Chanterelle Clafouti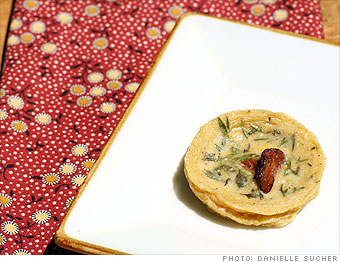 48 small chanterelle
1/2 teaspoons salt
6 eggs
1/8 teaspoon fresh ground nutmeg
3 cups evaporated milk
4 tablespoons fresh thyme
2 teaspoons vanilla
1 cup 2 tablespoons flour
1/4 teaspoon cinnamon
Preheat oven to 400° F.
Mix milk, eggs, vanilla and spices at medium speed for 1 minute. Add flour and mix at medium speed until flour is incorporated.
Spray mini-cupcake pans with Pam or lightly oil. Place mushrooms in each cup. Pour batter in to fill cup and bake 10 minutes, or until a knife comes out clean.
Maple Frosting
2 tablespoons softened butter
2 tablespoons powdered sugar
1 tablespoon maple syrup
Blend ingredients and top hot clafouti with a small dab of frosting.
Makes 48 minis
Danielle says: We made the clafoutis in silicone muffin tins, which worked really well.

NEXT: Morel & Artichoke Soup