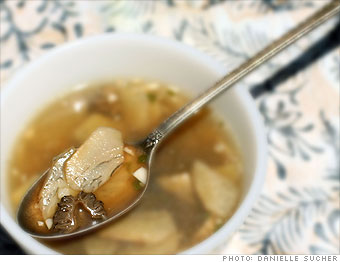 6 cups chicken broth
1 tablespoon fresh parsley, chopped
1/4 cup dried morels
3 tablespoons unsalted butter or olive oil
4 large garlic cloves, chopped
1/2 cup green peas (thawed if frozen)
1 can artichoke hearts
Parmesan or Pecorino cheese, freshly grated
salt & pepper to taste
In a small bowl, cover morels with boiling water. Push mushrooms down so that all are under water. Soak mushrooms until they are pliable, then cut them into bite-sized pieces.
Heat chicken stock to a simmer in a medium saucepan.
In a hot skillet, sauté garlic, artichokes and mushrooms in butter or oil, then transfer them into the simmering stock. Add parsley, salt and pepper, and simmer covered for 15 minutes.
Uncover, add the peas and simmer 5 minutes longer. Serve hot with grated cheese.
Serves 6
Danielle says: We made the artichoke soup with fresh morels and artichokes, and homemade chicken stock. If you don't want to bother with fresh artichokes, frozen artichoke hearts are another alternative to canned ones.

NEXT: Date Duxelles Kataifi