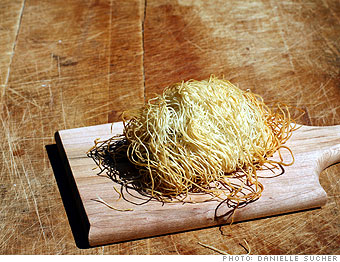 Big, juicy medjool dates
Black trumpet duxelles (recipe below)
Kataifi (see note
Spray oil
Butter
Pit the dates. Stuff them with duxelles. Lay out a handful of kataifi strands about a date - length wide and a foot long. Spray it with spray oil. Wrap the stuffed date in the katafi, and drizzle melted butter over the top. Bake at 375° F until done, about 20 minutes or so.
Duxelles
1/4 lb. black trumpet mushrooms
2 shallots
1/2 cup port
salt and pepper
Finely chop shallots. Sauté 2 minutes. Finely chop mushrooms. Add to shallots. Sauté 2 minutes.
Add port, salt and pepper; cook over low heat until port is absorbed.
Note: Kataifi is a shredded pastry similar to phyllo, available in Middle Eastern and gourmet grocery stores. In New York City, Danielle gets it at Sahadi Fine Foods or Kalustyan's.

NEXT: Burnt Chanterelles with Brandy-Soaked Sultanas