Burnt Chanterelles with Brandy-Soaked Sultanas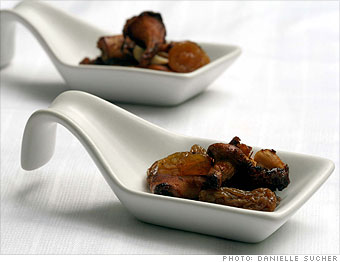 (loosely adapted from "
Mushrooms with cinnamon
," from British food shop Ottolenghi)
250g chanterelles
100g sultanas (golden raisins)
Brandy
Leaves from a few sprigs of fresh thyme
2 three-inch cinnamon sticks
6 cloves of garlic, crushed
Olive oil
Juice from 1 lemon
Salt and freshly ground black pepper to taste
Set the sultanas in a bowl and fill with just enough brandy to cover them. Microwave for about 30 seconds and set aside to soak.
Clean the chanterelles and coarsely chop the larger ones.
Heat a dash of olive oil in your pan until it gets shimmery hot, then stir in the chanterelles, cinnamon, garlic, and thyme. Leave it alonewithout stirring for a few minutes, until the mushrooms get a good pan sear and start to burn a bit.
Drain the sultanas, reserving the brandy. Stir them into the pan, then add some of the brandy, lemon juice, salt, and pepper to taste. Turn off the heat and let the residual heat finish cooking down the liquids.

More galleries