Want to stop employees from skipping off to Starbucks? These hotshot espresso machines might help.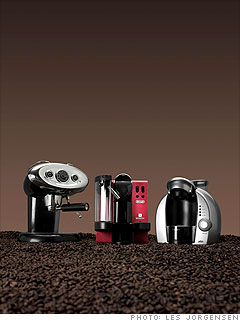 Like the staff at most startups, we consume a lot of coffee here at my Los Angeles-based telecom firm,
Fonality
. And a regular cup of joe just won't do for me and most of my employees.
But there's hope for our refined palates in a new type of espresso machine. Besides brewing regular coffee, these coffeemakers use special pods to make cappuccinos and lattes, calculating the water amount, brewing time, and appropriate temperature for each pod. How well do they work? Here's the skinny.
NEXT: Illy X6 Trio, $500