Inflation hits a famed recession deal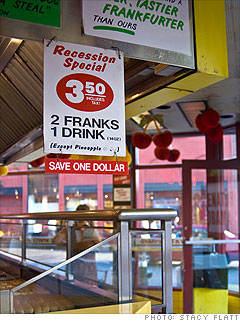 Perhaps the most famous recession deal is run by New York City's Gray's Papaya. The legendary 24-hour hot-dog joint - which also offers fruit juices at its three locations throughout Manhattan - offers two hot dogs and a drink for $3.50.
Although the deal was not inspired by the current economic slump (Gray's has been offering the "Recession Special" for several years), it's still a staple in the diets of many recession-pinched New Yorkers.
It's hard to imagine, but the $3.50 steal is actually a jump from the former Recession Special price of $2.75. Nicholas A. B. Gray - owner and founder of Gray's Papaya - announced the price increase back in October 2006, crediting it to the rising costs of running the business.

More galleries