Workshops with the sleep guru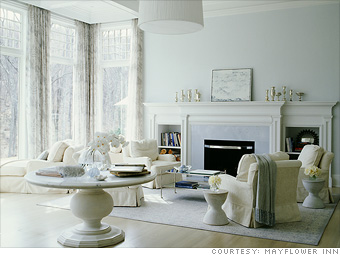 Mayflower Inn & Spa
Washington, Conn.
Started offering sleep treatments:
In 2006, when it opened
What it offers:
The Mayflower's multiday "Sleep Better, Sleep Well" program, offered several times each year, includes yoga, music therapy and workshops
Peel back the cover on spa sleep programs, and more often than not you'll find Robert de Stefano, dubbed "the sleep guru" by SpaFinder President Susie Ellis. A former advertising executive, de Stefano's explorations of yoga, massage and music therapy inspired him to launch the Sleep Garden line of audio and video products for insomniacs. Over the past two years, an increasing number of spas have started offering workshops and treatments designed by de Stefano.
"It was like, 'Hey, we have people coming here, we have beds, how 'bout we try to give them something more than a swimming pool and a cocktail at night?,'" de Stefano says of his newfound niche. "[The spa industry] had been turning and there's no one to turn to - and then, there I was."
The Mayflower Inn & Spa is one of de Stefano's clients: He flies in several times a year to lead workshops. The need for sleep treatments at the three-year-old spa was obvious right from the start, says Lisa Hedley, the Mayflower Inn's president and creative director.
"Everyone is stressed out and everyone is sleep deprived, and everything flows out of those two things," she says.
Price: A three-night stay and sleep program at the Mayflower Inn starts at $4,800