Plan for patterns and transitions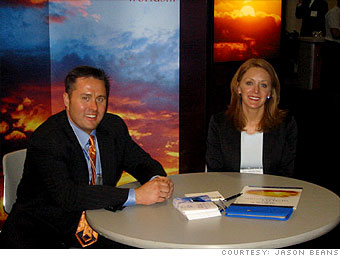 Jason Beans
President & CEO, Rising Medical Solutions
Chicago
You've hit on my biggest personal subject: Shutting my brain down is sometimes the bane of my existence. A few tricks I have:
Wind down. Never try to get home and go straight to bed. Some transition from work to relaxation is needed to shut the mind down. I have some short, light shows (South Park, Seinfeld, etc.) on disc I can watch when needed, and some non-business books (action novels, mysteries - don't pick a great one or you could get stuck reading all night).
Some pattern your body associates with sleep is necessary. I have recorded a "nature" playlist on my iTunes that is nine hours long. It is thunderstorms and rain over and over for eight hours, then songbirds for the last hour. The storms put me out, but I had trouble waking up with the storm on repeat, so the songbirds help me wake up naturally.
I always add some white noise and temperature control with a fan. I bring a small fan and iPod when I travel. If darkness is important and you are in a hotel or city where there are too many lights at night, use an eye patch to go to sleep, and take it off when the alarm goes off. Leave it in your luggage so you won't forget it.
Some of my best ideas come at night. Keep a notepad or recorder by the bed so you don't keep replaying the ideas all night, trying to remember them.
Try to stay awake. You will be shocked at how hard it is to stay awake if you tell yourself you cannot sleep.
Remember the most uncomfortable night of your life, and how happy you would have been then to be in a place like you are now!
NEXT: Politicians: Better than sheep