Morrison Archery's Custom Bows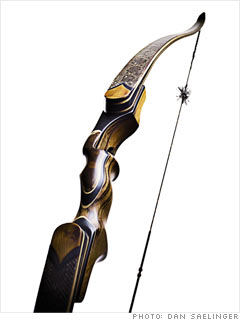 Thousands of American bow hunters use newfangled compound bows to stalk their prey. But according to the Archery Trade Association, an increasing number are spurning these modern contraptions in favor of traditional long-bows and recurves - classic weapons that date back to at least 2000 B.C. Bob Morrison, a 61-year-old maker of such bows in Granville, Ohio, has built a loyal following that includes pro golfer Davis Love III.
Morrison Archery employs six workers and produces about 250 bows a year, which can cost more than $1,600 apiece. Each bow requires 12 to 16 hours of labor. To form a bow's limb, Morrison sands and laminates as many as five layers of wood, gluing them around a lightweight foam core. Then he strings the bow and tillers it, shaving off bits of wood until it performs to a customer's exact specifications.
The company has a six- to eight-month waiting list. Morrison discusses each order with the client. "I find out what style they shoot," he says. "They think they know what they want, but I tell them what they really need."
In addition to specifying bow length, handle style (split fingers or three fingers under, depending on one's shooting style), and draw weight, customers choose from exotic woods such as cocobolo, a Central American hardwood. -Phil Bourjaily