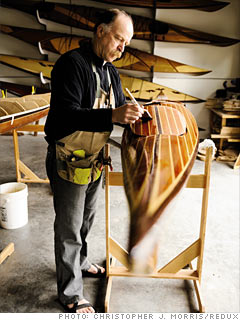 Joe Greenley works on four kayaks at once in his Port Townsend, Wash., workshop.
For master boat builder Joe Greenley, there was no particular aha! moment that launched his career manufacturing custom canoes and kayaks. Growing up in rural Idaho, Greenley spent a good portion of his childhood paddling wooden boats. Then he raced outrigger canoes in Hawaii post-college. After nearly two decades of designing and manufacturing home furniture, Greenley decided that he really wanted to build boats.
"I started with canoes in 1991," he recalls. "It was a lean market, but when the paddling community began to make sea kayaking a viable sport a few years later, business really took off."
Today Greenley, 53, receives "99 kayak requests for every one canoe order" and spends anywhere from 200 to 400 hours building each custom boat at his workshop in Port Townsend, Wash. Greenley uses the strip-building method, in which workers lay and glue long pieces of milled cedar over skeleton-like ribs. The wood is sanded, covered with a fiberglass sheet, then coated with two layers of epoxy that turn the fiberglass clear and seal the strips watertight.
The hulls of Greenley's boats are made from Western red cedar or Alaskan yellow cedar. Major selling point: Redfish kayaks weigh around 40 pounds, compared with 55 to 70 pounds for the fiberglass kayaks that most of its competitors sell. "My boats are light enough that one person can lift them onto a roof rack," says Greenley, who hand-picks his wood from suppliers in Washington State.
Redfish makes five basic kayak models, which sell to paddlers who ply bays, lakes, and other large bodies of water. Greenley sells six to eight custom boats a year, which go for $8,000 to $14,000, depending on the customer's requirements: Decorative detailing can drive up the cost by more than $1,000.
"Folks see my boats at shows and say, 'Oh, I'd be afraid to scratch them,' " says Greenley. "But they're rugged, more rigid than fiberglass." -Scott Bowen