The latest laptops are light enough to balance on a finger, but not all of them have enough firepower.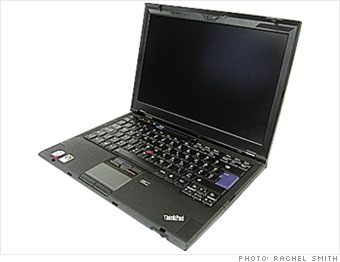 Price: $2,800 and up
Weight: 3.1 pounds
Size: 13"x9"x1"
Battery life: 2.5 hours
Speed: 1.2GHz
Ram: 2GB
Grade: A+Ergonomics:
The X300 is larger than some peers but on par with the Air in terms of weight and size. Plus, it has a big screen and a normal keyboard.
Performance:
Even with a slower processor, it's pretty fast thanks to a solid-state hard drive. And it has lots of features, including cellular networking and a DVD drive.
Bottom line:
This is one of the best thin and light business machines out there. Impressive performance and roadwarrior styling make it a winner.

NEXT: MacBook Air
Last updated July 11 2008: 9:00 AM ET
Email
|
Print
|

Digg this story
|

RSS