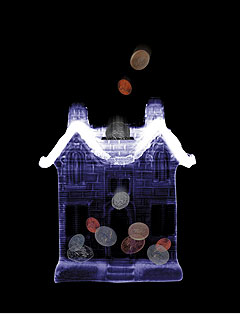 Pros:
You get the money up front, but the interest is deferred until you move out. The main advantage: "It's not like a 401(k) in the sense that once you tap it the asset is gone," says Sam Collins, a mortgage banker in Newark, Del. "You can do a reverse mortgage and still continue to enjoy your home."
Cons:
You have to be 62 or older to qualify. And the amount of equity you can pull out of your home is far less than with a traditional mortgage. For example, an 80-year-old Chicagoan with a house worth $400,000 would be able to borrow only $195,222.
The younger you are, the less you can borrow because it will be longer until the loan is paid back. So a 65-year-old in the same situation would get only $159,187. And reverse mortgages carry stiff fees, nearly three times as much as those on a traditional mortgage. Up to 8% of the loan, or $12,735 in our example, vanishes up front.
NEXT: Sell some hard assets
Last updated August 22 2008: 12:36 PM ET
Email
|
Print
|

Digg this story
|

RSS