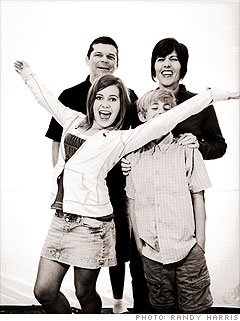 D.L. Byron and Pam Massey with kids Angela and Ryan.
Pros:
HELOC interest rates average just 5.7%, according to mortgage tracking firm HSH Associates - and because interest on loans of $100,000 or less is tax deductible, the real cost is even lower. HELOCs also have low up-front fees.
Those advantages prompted Pam Massey, 43, and her husband D.L. Byron, 41 (pictured), to take out a $100,000 HELOC in June. The couple's home has long been in need of a renovation (daughter Angela, 12, sleeps in the basement) but they haven't yet found the right contractor. With a HELOC, they don't have to start paying interest until reno bills arrive. "We wanted to be flexible," says Massey.
Cons:
HELOCs can be hard to get: You'll need a credit score of 680 or better and more than 20% equity. HELOCs are also harder to keep than they once were. Jason Bloom of Elliot Bay Mortgage in Bellevue, Wash. says some of his clients' HELOCs have been frozen recently because their house fell in value or their bank tightened lending standards.
"It's a widening trend," says Bloom. Finally, HELOC interest is variable, so it can climb uncomfortably high. Rates hit 10.3% in 2000.
NEXT: Do a cash-out mortgage refinancing
Last updated August 22 2008: 12:36 PM ET
Email
|
Print
|

Digg this story
|

RSS