When we asked boomers where they wanted to retire, almost half said by the water. Here are three pairs of retirees who got their feet wet.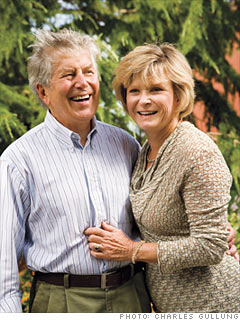 Moved to:
Sequim, WA,
from Rancho Palos Verdes, CA, in 2007.
Their jobs: She was a judge; he was a lawyer.
Their house: A $900,000 three-bedroom house with views of the Strait of Juan de Fuca, which leads to the Pacific.
The water: They frequently dine by the marina and watch sunsets over the ocean.
After they raised six kids in the Los Angeles area, the Smaltzes began to tire of the frenetic pace and crowds of the big city. "We knew if we didn't move away, we'd never quit working," says Lois.
Last year, when she became eligible for full retirement benefits from her employer, the couple finally pulled the plug both on their jobs and on L.A. From colleagues, they'd heard about a small town two hours north of Seattle where "the cost of living was less and the pace of living was better," says Don. That would be Sequim. The Smaltzes bought a 3,200-square-foot, $900,000 house there with gorgeous views of the Strait of Juan de Fuca, which leads to the Pacific.
Sequim also has a whole lot of culture nearby, from plays at Olympic Theatre Arts to rotating exhibits at the Museum and Arts Center to live music at the Port Angeles Symphony Orchestra. Don, who paid his way through college and law school working as a musician, plays jazz trombone in local bands four or five times a week.
"There's an intelligent culture here, whether you want live music or a decent restaurant or ingredients for an exotic meal," says Lois. "We're living in a place where we both can do all the things we love."

NEXT: Pat and Frank Eichenlaub, 68 and 66

Last updated September 16 2008: 11:24 AM ET
Email
|
Print
|

Digg this story
|

RSS