When we asked boomers where they wanted to retire, almost half said by the water. Here are three pairs of retirees who got their feet wet.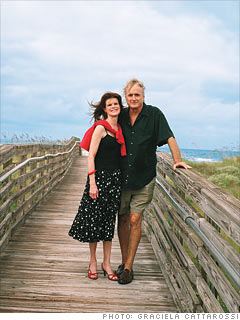 Their jobs: She was a travel consultant; he was a philosophy professor.
Their house: A $350,000 three-bedroom bungalow eight blocks from the beach.
The water: They swim in the Gulf, go boating with friends and take long beach walks.
In 1999, the Barnettes were driving from their home in Georgia to their daughter's place in Orlando when they discovered Dunedin. With cobblestone paths, quaint historic buildings and a pretty marina, this Gulf Coast town looked unlike anything else in Florida. "It was love at first sight," says Candy.
Back in 1999, the Barnettes scored a 1,200-square-foot cottage eight blocks from the Gulf for $115,000. They spent another $100,000 expanding it, even adding a library. In 2002 (by which time their three kids were grown, Ron had qualified for a generous pension with health benefits and their retirement nest egg had hit about $800,000), they stopped working, sold their house in Georgia and moved here full time.
The couple love the lower cost of living, the absence of state income tax, the medical care - the local hospital is strong in oncology and cardiology - and the abundance of activities. They frequently do volunteer work, swim in the ocean (well, Ron does) and go boating with friends.
Ron jokingly calls nearby Honeymoon Island "my office" because he goes there nearly every day. "The thrill hasn't worn off," says Candy. "If we did everything Dunedin has to offer, we'd never sleep."
NEXT: Don and Lois Smaltz, 71 and 66
Last updated September 16 2008: 11:24 AM ET
Email
|
Print
|

Digg this story
|

RSS