Don't let the market meltdown derail your future. Follow our six-step guide to rebuilding your 401(k).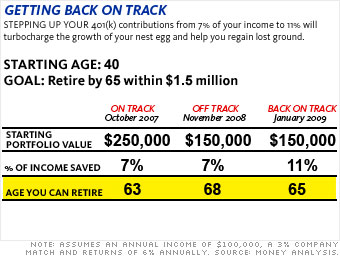 Face it. When it comes right down to it, there are only two ways to beef up the balance in your 401(k): earn more on your investments or save more money. Unfortunately, as the past year has proved - wait, make that the past decade - you can't count on the whole "earning more" thing to bail you out.
The only part of the equation you can control is the amount you contribute to your plan. How much more would you have to save to get back to even, then get your account growing again? To figure that out, you'll first need to open the most recent 401(k) statement that you buried in your desk and assess the damage (you might want to pour a stiff drink first). Then determine the percentage of your income that you'll need to save going forward to meet your retirement goal, using an
online savings calculator
.
The number that you come up with may be, well, challenging. But frankly, you probably weren't saving enough anyway - the typical 401(k) investor kicks in just 7% of salary, far less than the 10% to 15% that financial advisers commonly recommend. Granted, coming up with the extra cash may be tough these days, but push yourself to do what you can. Ease the sting by timing the increase to when you get a raise, commission or bonus. Even small amounts will add up over time.
NEXT: Stick with stocks
Last updated December 15 2008: 8:38 AM ET
Email
|
Print
|

Digg this story
|

RSS