Money asked top connoisseurs to identify their favorite undervalued spirits. These hidden gems will set you back less than the standard labels and impress your friends more. Bottoms up!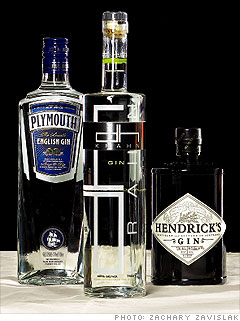 Gin's been sort of forgotten in the liquor craze, "which means there's still value to be had," says Jim Meehan, co-editor of the cocktail book "Mr. Boston." Classic brands like Beefeater and Plymouth, for example, can be found for around $25 a bottle. That's fine, but there are more interesting ones out there. Over the past few years, liquor companies have started selling gins light on juniper and heavy on other exotic ingredients - from ginger to grapefruit - in hopes of luring vodka drinkers. These can be drunk in a cocktail or on the rocks with soda. The best of them pack premium taste into bottles under $35, less than premium flavored vodka.
Our picks:
Plymouth, $26:
This English gin is a true classic; it has been made with the same recipe since 1793.
DH Krahn, $30:
Its complex East Asian citrus flavor comes from ingredients like lemon zest and Thai ginger.
Hendrick's, $30:
Infused with cucumber and rose petal, this Scottish gin won "double gold" at the 2004 San Francisco World Spirits Competition.
NEXT: Rum
Last updated December 19 2008: 10:43 AM ET
Email
|
Print
|

Digg this story
|

RSS