Once-in-a-generation sales have sprung up in this crazed market.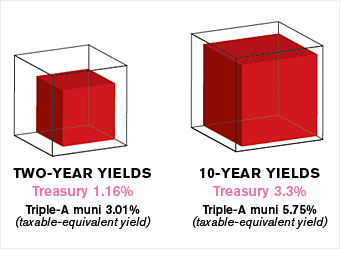 Normally, yields on Treasuries and munis are about equal after you factor in taxes. Today muni yields are much higher.
With taxes likely to rise, you'd expect demand for bonds issued by city, county and state governments to grow -- thanks to their tax-exempt status. Think again. Things have gotten so out of whack in this credit crisis that 10-year triple-A munis are yielding 4.14%. Assuming you're in the 28% bracket, that's like getting 5.75% on a Treasury. Yet 10-year Treasuries are yielding only 3.33%. True, munis can default. But even in a recession, the threat is not nearly enough to justify this differential, experts say. Go with a diversified Money 70 fund like Vanguard Intermediate Term Tax-Exempt (
VWITX
).
NEXT: Eaton
Last updated December 23 2008: 10:46 AM ET
Email
|
Print
|

Digg this story
|

RSS
Data for all charts as of Nov. 24. Muni bond figures are taxable-equivalent yields assuming a 28% income tax rate. SOURCES: Bloomberg, Morningstar, Municipal Market Advisers.