Once-in-a-generation sales have sprung up in this crazed market.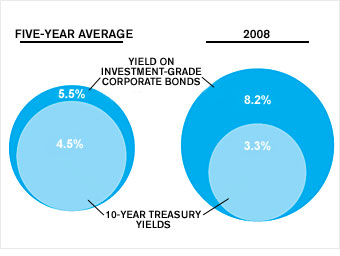 The spread between yields on corporate bonds and Treasuries has ballooned this year -- signaling a big buying opportunity in investment-grade corporates.
The bonds of high-quality firms normally yield one to two points more than the going rate of U.S. Treasuries to compensate you for added risk. But Wall Street is so spooked that investment-grade bonds are now yielding more than 8% -- five points more than 10-year Treasuries. That's just too good to pass up, experts say. In fact, the prices on corporates have fallen so far that their yields currently "compensate for default rates worse than the Great Depression," according to Citigroup. A simple way to get onboard: Vanguard Short-Term Investment-Grade (
VFSTX
), a Money 70 fund.
More galleries
Last updated December 23 2008: 10:46 AM ET
Email
|
Print
|

Digg this story
|

RSS
Data for all charts as of Nov. 24. Investment-grade bond yields are based on FINRA Bloomberg Active Investment-Grade U.S. Corporate Bond index. SOURCES: Bloomberg, Morningstar, Municipal Market Advisers.