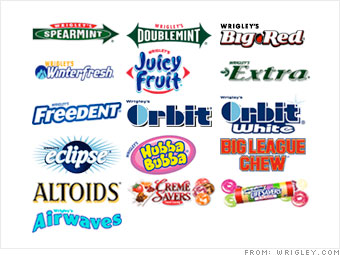 For years, Wrigley enjoyed a near-monopoly on the gum market in the U.S. And even now, as it struggles with new competition from candy juggernaut Cadbury in North America, Wrigley is still benefiting from strong demand overseas.
The company may be losing market share domestically, but the Middle East, Europe, and Asia (especially China) is where the growth is. Domestic sales were flat in the last quarter, but sales to Europe and the Middle East grew 26% in 2007, while Asian sales grew 20%. International markets accounted for 68% of Wrigley's total sales.
Analyst Alexia Howard of Sanford C. Bernstein & Co. said she's worried about the increased competition from Cadbury. But she also said Wrigley consistently produces a steady stream of cash. So it should be able to comfortably pay a dividend -- and increase it -- for the foreseeable future.
As such, Wrigley's dividend yield of 2.3% is as refreshing as a stick of Doublemint. Plus, the dividend has grown by an average of about 13% over the past five years. Now that's some juicy fruit for investors.
More galleries
Last updated June 20 2008: 1:23 PM ET
Email
|
Print
|

Digg this story
|

RSS