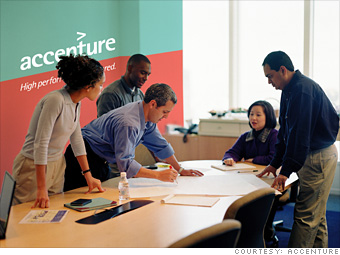 Debt as a % of capital: 0%
Return on capital: 86.5%
While cash flow is a key indicator of a company's strength, what a company does with its cash is equally important, and Accenture is a good example of effective use of cash.
Accenture provides business support services like management consulting, technology services and outsourcing. As such. Accenture is not a "capital intensive business," says Anurag Rana, an analyst with KeyBanc Capital Markets.
Rana thinks the company has made good use of its cash by investing in the company's most important asset: consultants."It's a knowledge based business," and Accenture's strategy has been to "invest money in people," he said.
That strategy appears to be working, based on the Accenture's 86% return on equity, which is a measure of how much profit a company generates with the money it has at its disposal. By way of comparison, HP's return on equity is only 21% It's no wonder that HP wants to diversify beyond the more capital-intensive hardware business and into services.

NEXT: Genentech

Last updated June 20 2008: 1:08 PM ET
Email
|
Print
|

Digg this story
|

RSS