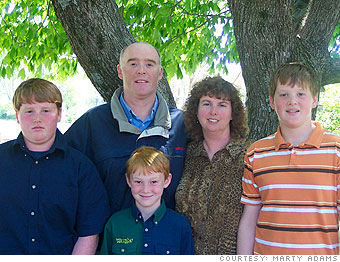 Middle-class families like the Adams are feeling squeezed.
Senior tech lead, 40, Athens, Ala.
We are in the middle class working as we should. We had good income for several years. I had a good paying job and we had saved up to send our kids to private schools.
We now have stopped driving the diesel truck I had due to the high cost of fuel. It was costing me $165 each fill up every seven days. I purchased a $1,800 car with a loan from the bank. Our savings was gone from high economy costs.
I have three boys. It takes everything that we have to make ends meet. If one thing - like a refrigerator or car - breaks, I have to get a loan at the bank and hope that something doesn't break in between my paying that loan off and the next.
We are holding up better than many and we are thankful we are able to work. I will keep on as long as there is breath in me. There is a job always somewhere. Even if I have to mow a lawn or go back to working on the farm I will to make it better for my family.
NEXT: Randy Klein: Caught by surprise