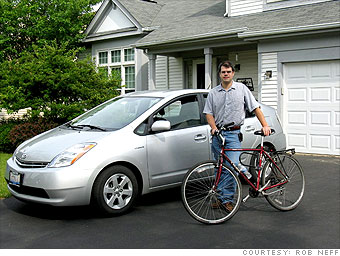 Rob Neff is changing his lifestyle to cut down on driving, but doesn't see others doing the same.
Software engineer, 40, Lake Zurich, Ill.
Years ago I could see gas prices were going to rise eventually, so I bought a Prius and kept an eye out for a good job near my home. Eventually I got one just 3 miles away, so in the summer I ride my bike to work.
Last year there were about 800 cars in the parking lot at the office complex, and generally just one to three bikes in the bike rack (including mine). This year there were some tenants added to the office complex, so now there are about 1,000 cars in the parking lot.
Now with gas prices $1 higher or thereabouts, there's again one to three bikes parked at work, just like last year. Meanwhile, my Prius is parked at home.
Maybe people take fewer discretionary trips, such as shorter vacations or less driving to the outlets, but for the daily commute, I see no change.
NEXT: Paul Cormier: Beating gas with a bus
Last updated September 25 2008: 3:44 PM ET
Email
|
Print
|

Digg this story
|

RSS