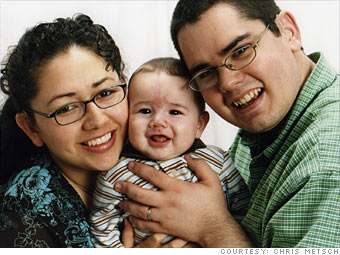 Chris and Noemi Metsch only use their car for emergencies.
Stay-at-home dad, 25, Vancouver, Wash.
Gas is eating up our money. We decided to cut down and not drive. My wife uses a bus pass that costs $20 a month. That saves lots of money compared to spending $8 every day for gas.
We look at all ads in the newspaper for which stores are cheaper for buying fruit and vegetables. We're both deaf parents on a low income. My wife is the only one who works.
We take our son to the park and go to the library. My son loves to be on the bus. We use our car only for emergencies. For other things we take the bus or walk.
We save about $400 by cutting down on gas, food and diapers. We hope the government can see that lots of people with disabilities can't afford living costs with high rent, food and gas. Now many with disabilities are struggling to get a job.
NEXT: Jim Pavlock: Beating the crunch
Last updated September 25 2008: 3:44 PM ET
Email
|
Print
|

Digg this story
|

RSS