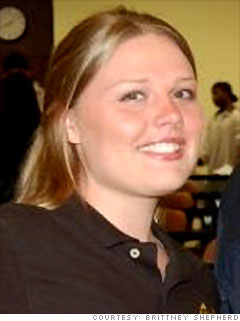 New grads like Brittany Shepherd are struggling to make ends meet.
Administrative assistant, 22, Tallahassee, Fla.
As a recent college graduate, I hit the pavement running in search of a job both before and after graduation. Over 75 applications later, I very happily landed a position as a receptionist in a local real estate firm.
I live in fear that my expendable position may not last long thanks to the state of the economy. I have taken up odd jobs on the weekend and have begun shopping at discount grocery stores in order to get myself to work and pay my rent.
The main difference I have noticed in my community seems to be how people are living in literal despair as anxiety over money becomes all consuming.
NEXT: Lydia Lawrence: Draining the wallet
Last updated September 25 2008: 3:44 PM ET
Email
|
Print
|

Digg this story
|

RSS